Best snorkeling in the world. Wondering, where are the best snorkeling beaches in the world? Which is the best place to snorkel in the world? Then check out this list of top 10 snorkeling spots around the World.
While considering the best snorkeling destinations in the world, you have to consider factors like the water quality, the marine wildlife of the waters, and also the water clarity and temperature.
Snorkeling is a popular sport and here we have selected the world's best places to snorkel based on these criteria! These are the best snorkelling destinations that are world renowned.
Related: Top 10 Best Places for Snorkeling in Europe for Underwater Enthusiasts
Snorkeling is among the easy underwater activities and people of all age groups can easily do it. The greatest thing about snorkeling is that you don't need much gear, just a good mask and some fins and of course, a snorkel.
With these items, you can float with your head below the water surface and view the exotic fish swimming around you along with the marine habitats of shallow areas in the ocean.
Check out this guide for snorkeling equipment to select the right gear for yourself. If snorkeling is in your bucket list of activities, we suggest you try out some of these destinations to get a truly awesome experience of raw underwaters.
Top 10 Best Places to Snorkel in the World
Galapagos Islands, South America (Best Snorkeling in the World)
These islands are literally a treasure trove for some of the most exotic sea animals and aquatic life.
There are 15000 square miles of marine reserve waters in these islands.
You can find sea turtles; sea lions; reef fish and if you are lucky, even marine iguanas.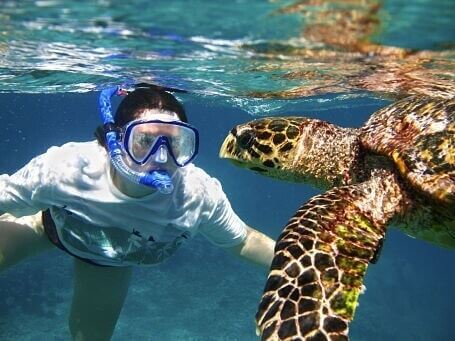 There are two seasons for snorkeling in the Galapagos islands. One season runs from June to November, when it is dry and cool. The other season is the wet and warm season from December to May.
The wet seasons is the preferable one, as the temperature is around 20 degrees with the water being around 25 degrees, which is perfectly suitable for diving. In addition, the sea is calmer and the visibility is better under water.
Book your snorkeling adventure well in advance, as the peak season lasts from December to January, so book at least 6 months before.
Komodo National Park, East Bali, Indonesia
There are some amazing reef structures filled with stunning fish like clownfish, beautiful tang, even manta rays and turtles! So, put this destination on the top of your bucket list for snorkeling as it is one of the best places to snorkel in the world.
Tip: Take a flight to Labuan Bajo airport, from where you can take boats to the Komodo National Park.
It is located between Flores and Sumbawa and consists of 3 islands, Komodo, Padar, Rincah with 26 smaller ones extending over 2000 kms. The waters contain rich amounts of plankton and nutrients, to enable rich sub aqua life thriving here, so snorkeling is a highlight of any trip to this location.
One of the most popular places for snorkeling is Red beach, a site teeming with yellow damsels; angelfish; fusiliers and Mantis shrimp. Another popular snorkellin spot is Batu Bolong, which is also an ideal diving site. It is one of the best places to go snorkeling.
Manta Point is a popular snorkeling spot where you can have rare experiences of snorkeling with sea lions, sharks and orcas and many other marine animals.
Remember: People come to Manta Point to sight the Manta Ray, which is found in high numbers.
Snorkelers from all over the world come here to experience the biodiversity offered in 50 top dive sites present here.
Though it is possible to snorkel throughout the year, the best time is from April to August, as it is dry then. Visibility is good during November to January, though it is the rainy season.
Read: Best Tour Operators in India: Make Your Indian Holidays Memorable
Ambergris Caye, Belize, Central America
It is located on the biggest barrier reefs running 175 miles across Belize and offers one of the best snorkeling in the Caribbean. Ambergris Caye is the biggest island of Belize with the major attraction being snorkeling in the Barrier Reefs. It ranks among the world's best snorkeling destinations.
Some of the top snorkeling spots here are the Hol Chan Marine reserve; the Shark Ray Alley Hol Chan reserve, the Coral Gardens and the Mexico Rocks.
The coral reef system is the longest in the hemisphere and runs along many coral sand islands surrounded by reefs where you can snorkel in the pristine water.
Tip: The nearest town is San Pedro Town, which is also the capital of the country. It takes you about 2 hours to reach Belize from Florida.
The area is home to a rich variety of biodiversity with thousands of rare fish.
There are several budget friendly places that are available just a few steps from the beach and immigration policies are also friendly, with the locals speaking English as well. It is one of the perfect places for snorkeling.
The Great Barrier Reef, Queensland, Australia
This is a top bucket list destination for snorkelers and divers. It is the biggest reef system in the world, with over 2900 reefs and 900 islands.
It is possible to see tiger sharks; bronze whalers; and such rare water animals that wander from the corals to the deeper waters. You can even go shark diving from north Queensland!
Tip: You could even see a leopard shark if you are lucky, a rare event!
Always follow the rules and you won't be in any real danger on the Great Barrier Reef. There are several things that could really hurt you, for instance, during the Stinger Season, you must follow rules related to stinger suits for protection. Another danger is the sun, which is quite fierce.
Grenada, The Caribbean (Best Places for Snorkeling in the Caribbean)
Grenada is a whole new world of coral reef systems, where snorkelers just need diving masks, fins and a snorkel to enjoy the sport and is among the best snorkeling spots around the world.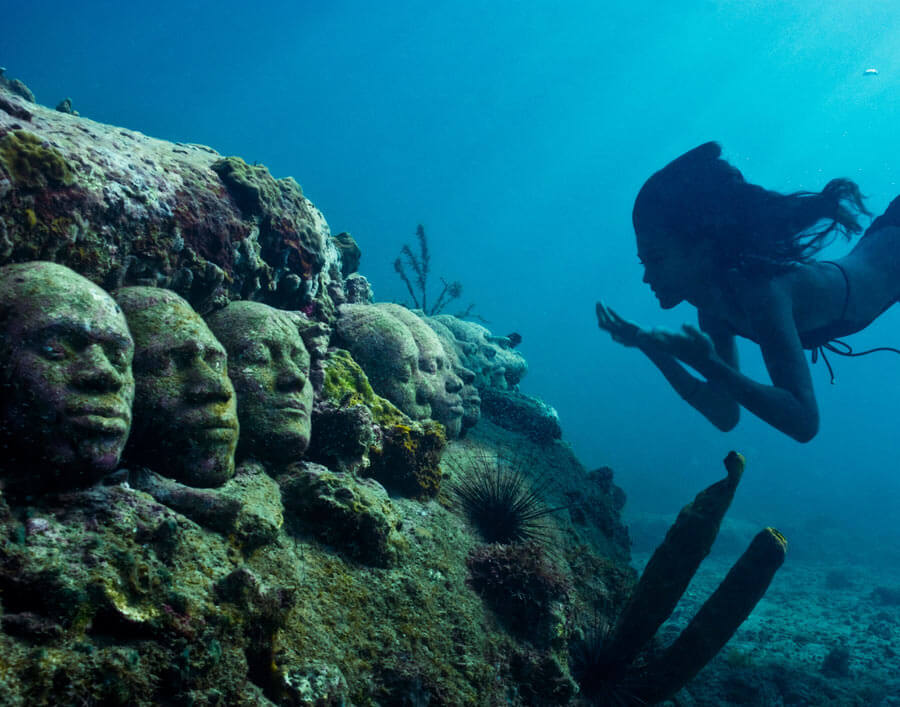 There are snorkeling sites on the northern as well as southern tips of its main island as well as in the nearby islands of Carriacou and Petite Martinique.
You can assess these sites from many of the beaches. Among the places to dive and snorkel are Flamingo Bay, an interesting reef for exploring the underwaters, being the critter capital of Grenada. It is located in Molinere in Grenada. Another interesting spot is Levera Beach, especially when visiting from May to September. Morne Rouge Beach has calm waters and is suitable for amateur snorkelers. La Sagesse Beach and Dragare on is also a top choice for snorkeling for snorkelers.
It is recommended for amateurs as well as advanced snorkelers, with plenty of suitable sites along with shallow coral gardens.
Plage de la Palud, South France (Best Places to Snorkel in the World)
It is located in the Port Cros National Park in the Mediterranean and is one of the most popular snorkeling spots on the Mediterranean coast. The best time to go snorkeling here is from June to September, with water temperatures varying from 65 degrees to 75 degrees F. It is among the best snorkeling destinations in Europe famed for snorkeling and diving.
Take into account the blowing gusts of wind in these parts, as it could lead to dangerous waves!
One of the most interesting environments here is the Neptune grass seabeds where you can find large salema porgy shoals, sea bream, sargo and the East Atlantic peacock wrass. It is a perfect place to snorkel.
You could also see the colorful rainbow wrass, the painted comber and ornate wrasse in the rocky areas or find a red starfish in the small crevices. Here, you could get really close to the fish.
Must See: 10 Amazing Places to Visit Before You Have Kids
Hawaii, USA (Best Places for Snorkeling in the World)
This is truly a paradise for snorkelers, as the islands are teeming with plenty of aquatic life. You need not go too far into the sea to view sea turtles, coral reefs and amazing species of fish.
The first on the list is Kealakekua Bay, which is home to dolphins and turtles mainly. The waters also offer good visibility and there are several boat tours organized regularly for visitors.
Other spots here are Molokini Crater and Honolua Bay, Maui, Hanauma Bay, Oahu, Ke'e Beach and Tunnels Beach, Kauai among several others.
The waters here are warm throughout the year and it is bustling with reef ecosystems that you can explore, so that you can enjoy one of the best snorkeling experiences.
Buck Island, US Virgin Islands
It is a pristine coral reef and one of the world's best snorkeling sites, about just 20 minutes by boat from Christiansted, St. Croix island.
Tip: It makes a great destination for beginner snorkelers, as the water is clear and shallow without many distractions.
The reef is healthy and has several sites with thriving brain; Elkhorn, coral and colorful reef fish.
There are also several plaques and markers on the seafloor giving information on the different species.
Ilha Grande, Brazil (Best Places to Snorkel in the World)
It is called Ilha Grande or Big Island and is a popular tropical retreat near Rio, about 30 minutes driving distance from Angra dos Reis which is near Copacabana located in Rio de Janeiro.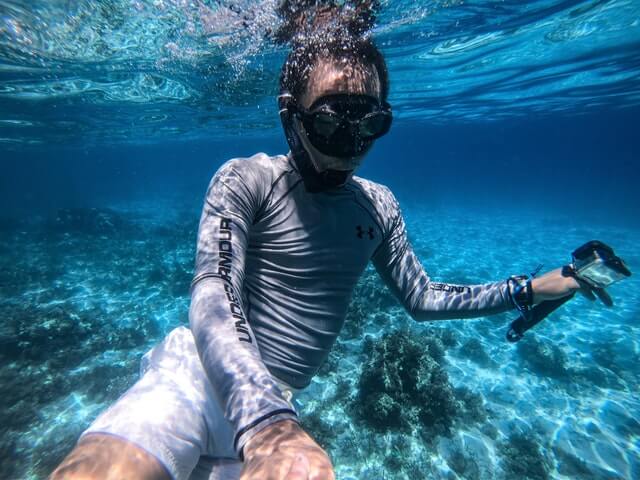 The island has plenty of white sandy beaches and crystal-clear waters.
Snorkeling is popular at the Lagoa Azul, which is located on the extreme north of this island.
You can get really up and close with colorful fish; coral reefs and even squids and sea turtles.
Tip: The best visibility is in the summer months from November to February.
Also Read: 1st Anniversary Ideas: Romantic Ways to Celebrate Your First Wedding Anniversary
Silver Bank, Dominican Republic
It is among one of the best snorkeling destinations and a safe haven for the Humpback Whale population that gathers here from January to April, for courting, mating and rearing their young ones. They then return to the North Eastern US coast after rearing their young ones in this sanctuary.
You can observe whales at close range. You can hear their songs resonating in the water, a truly life changing experience.
Humpback whale watching season lasts from the middle of January to March.
Dive from the Canyon, which is suitable for beginners and professionals to spot yellowtail snappers, anemones, toadfish and beautiful flamingos here.
Other diving sites include the Cayo Arena, which is a paradise for snorkelers.
Wrap Up (Best Snorkeling Destinations Around the World)
More than 70% of our planet is covered in water and is home to some of the most exquisite and rare marine species.
Apart from these ten must visit snorkeling destinations, there are plenty of other places where both novice and professional snorkelers can have the most enchanting underwater experiences, such as snorkeling in Maldives.
If you are new to snorkeling, you can view instructional videos on snorkeling in order to learn the right techniques.
Once you reach the destination, you can rent the equipment and access the water through submerged platforms, with safety officers assisting you with the gear and giving you tips all the way in order to have an enjoyable experience.
Some of them also offer a guided snorkeling tour to introduce you to this exciting underworld. So, you can enjoy snorkeling in these destinations, regardless of your skill levels. Most of them offer excursions and lessons for beginners as well.
So, now that you know about the best places to snorkel around the world, what are you waiting for? It's time to start planning your next snorkeling trip.