Are you on the lookout for starting a food business at a low cost investment? Well, check out these ideas for a food startup, all of which are high profit food business ideas with low investment.
There are several kinds of restaurant ideas and you cannot open one impulsively. Different types of food product businesses require different kinds of investments, belong to varying profit margins, have different income margins, time investment and break even points.
See: Fast Food Business: How to Start a Small Street Food Outlet in India
Let's look at the top 10 high profit food business ideas that require small investment and also have minimal risks and good profits.
10 Hot and Profitable Food Business Idea with Small Investment
Be a Restauranter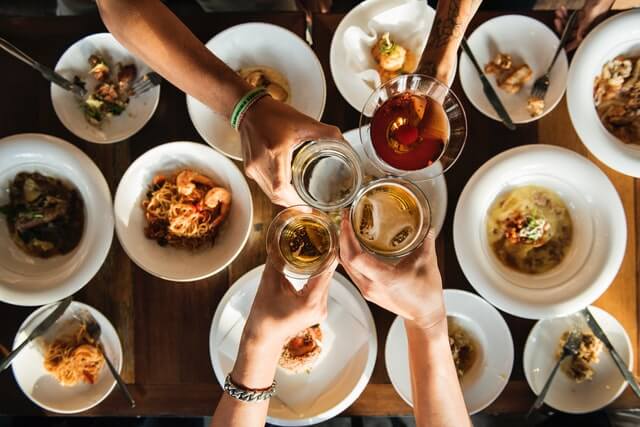 If you have a dream of opening a restaurant but don't have enough funds, you can still do it with a small investment. It is among the most popular food business ideas.
Opt for a small diner or a cafe. You can look for financing options if you don't have enough funds.
Decide on the type of restaurant and the target audience, your budget etc.
Do your marketing through social media, pamphlets etc.
Capital is not necessarily a deal breaker for this business. There are plenty of successful restaurants that began with a small budget.
Start small and learn the nuances of the restaurant business!
Read: Planning to Open a Restaurant? Here's How to Hire a Cook for Your Restaurant
Catering – Best Food Business Ideas
How to start a food business? Are you capable of cooking awesome buffets? Why not start a small catering business right from your home?
Research your local market, other caterers in the area, the demand, unique selling items etc. identify your customers and a niche.
Tip: Niche options for catering include birthday parties, corporate events, weddings, boxed lunch, dinner parties etc.
Create your website and distribute brochures.
Candy/Chocolate Making
Who doesn't love eating candies and chocolates? Well, you could turn this love into a money making business! It is a growing market so you can start this kind of food business ideas with a very small investment. It is similar to selling food from home.
Do the research and sum up the competition in your location when considering such profitable small food business ideas with small capital.
You can cook from your home or rent a kitchen.
Tip: Check out online sites having listings in your area for renting a commercial kitchen.
You can sell retail, to your family, friends or tap the neighborhood to begin with. You could also set up shop with a small outlet store and promote it using websites like Groupon and social marketing.
Distribute packages wholesale to restaurants and food stores while selecting such a food based business idea.
Check Out: How to Start a Mushroom Farming Business in 12 Easy Steps
Food Truck
Among the best low investment food business ideas, a food truck is a mobile business where you have to rent or buy a truck that is fully equipped for cooking and serving food.
Location is very important so you must select a go to location where you can predict a certain number of customers on a daily basis, and where you can park the truck without hassles.
Consider the location fees, the foot traffic, the demand for the food and the regulations in the location.
Consider the competition! You don't want to be the fourth hamburger truck in the target area.
Serve quality food, pick a proper logo, good truck design and suitable menu, venue and pricing. You can also try a unique concept. For instance, you can offer organic and healthy food options in your menu to attract health buffs. Or you can bring New York bagels and offer them in California!
Tip: You can supplement your food truck revenue with catering when you select such best food business ideas with low investment.
Cake/Pastry/Dessert Shop
Even if you personally don't know how to make perfect cupcakes or baguettes, you can hire people and run a bakery food business with small investment on such food business ideas.
It will involve shopping for ingredients, updating yourself on new recipes, developing a social media presence, taking baking classes and mastering baking techniques.
It is a good food business from home. You can bake in your own kitchen or rent a space and open a bakery when opting for such food business ideas.
The scent from your baked goods is your best marketing tool! Develop a new concept, such as gluten free cakes to satisfy a niche market sector.
Offer free samples for taste, post pictures on social media and promote your wares.
Create online ordering functionalities. Sell your baked goods in community events, as it is among the most profitable food businesses you can start with lowest initial costs.
Must See: How to Start a Spice Processing and Packaging Business in India
Ice Cream Shop
All of us love ice-creams, with the average American consuming about 12.9 pounds of ice cream in the year 2017!!!
You can opt for a franchise opportunity or just open a parlor or opt for an ice cream truck. A franchise might be easier, as you will have all the equipment, ingredients and everything else you need for getting started.
As for running your own ice cream parlor, you will need to buy machines, freezers a display case etc. You can also rent a truck and sell ice cream and other products.
Tip: Combine an ice cream business with beverages and other treats in your shop.
Try focusing on specialities like sugar free or organic products for such food business ideas. You could sell related products like frozen yoghurt, ice cream cakes and milkshakes.
Promote your business with print out flyers and be active online. Attend food festivals and give out free samples.
Also Read: Ice Cream Manufacturing Plan: Starting an Ice Cream Making Business
Personal Chef Business
If you're looking for a unique food business idea, check out the personal chef one. When considering low investment food business ideas, this could be a very lucrative food business if you love everything culinary. The start up cost is also very low, as you can use the kitchen supplies and devices of the client.
As a personal chef, you can prepare meals for a family, for home parties, corporate meals or lunches, supply food for a special event, for birthdays, anniversaries.
Tip: You could try specializing in a niche, such as gourmet foods, special diet etc.
You may need some of your own equipment, like knives, and will need transportation.
Grow the business through client referrals. Create a website, post testimonials and spread the word through word of mouth. Attend networking groups and meet people who might need personal chefs for their homes and business occasions. Start with family and friends. Your ideal market consists of wealthy individuals and business organizations.
Create your menu and price it right, including costs for preparation, labour etc. while opting for such food business ideas. Your work will include food preparation, cooking on client site, shopping for groceries and offering nutritional advice.
Sometimes, part of the meals can also be created in your own home.
Make sure to research good recipes and proper cooking techniques. Customize meals with clients' individual desires and tastes.
Vending Machine
You find them everywhere, with the US alone having more than 5 million vending machines generating billions of dollars per year. This is among the top food business ideas with a low investment.
In this kind of food business idea, all you need is a vending machine and a perfect location. Of course, you will have to make connections with suppliers of products that are vending machine friendly, usually grab and go type of snacks.
You can provide popular snacks, beverages, soda and candy or opt for gourmet food.
You have to stock the vending machine and take care of servicing and collection of money from the machine regularly.
Place your vending machine in location driven areas. For instance, you can stock on protein bars, shakes and energy drinks at your vending machine placed in a gym.
You May Like: Top 11 Best Self Employment Ideas in India with Low Investment
Food Processing
You can start a jam or jelly making business with low investment. This business can be started right from your home. This is also a hot new food business idea.
Your target market will be households, as well as eateries and restaurants.
You will have to spend on fruits, citric acid, preservatives, colors, pectin etc. and also packaging, such as jars, glass bottles, and cartons. You will also need the machinery for food processing, such as mixers and juice extractors.
Coffee Shop
Open a coffee shop with little investment! This business model was first pioneered by the famed Starbucks. It is an ideal place for people to socialize and for an informal business meeting.
You can provide different types of lattes, teas as well as pastries and other snacks. According to the Specialty Coffee Association in America, specialty coffees constitute over 50% of retail business in US coffee shops.
You can opt for a franchise or just start from scratch.
Location is of prime importance for attracting customers, so do proper research and opt for a storefront, malls and other high traffic locations.
Read: Cashews Cultivation: How to Start Cashew Farming
Last Word on Profitable Food Business Ideas with Low Investment.
As always, as for any other business venture, perform all the usual tasks like getting a business permit, setting up your website, buying insurance, set up of a corporation and fulfilling any other zoning requirements, home association rules etc. applicable to your location.
You will also have to get food service licenses from the health department. In some cases, you may have to get a certification as a food manager. You can, alternatively, hire a certified person for preparing the food.
Take care that your kitchen, the storage and other equipment meet the required standards.