10 Best Indian Matrimonial Websites
Matrimonial Websites in India are one of the many online endeavors that help to make the Big Fat Indian Weddings a little easier. The first step in a marriage i.e., searching for a Bride or Groom has become a lot quicker through these websites for matchmaking.
No one knows whether marriages are made in heaven or not, but through these websites people can find their soul mates and have marriages that are at least made in clouds (even if its oracle cloud) 😉
Marriages – An Indian Point of View
In India, more than 70% people prefer arranged marriages. Though the concept of love marriages is gaining ground, it is still restricted to metro cities and urban towns.
By definition, in an arranged marriage the marriage is planned and grooms and brides are decided by parents or elders.
The factors that affect this decision making are financial background, religion, caste, physical features, and educational qualifications and so on. Traditionally, this work of finding prospective spouses was done by priests or some match-making relative.
These days, this work is being performed by matrimonial websites.
Matrimonial sites maintain a database of profiles of people planning to get married. Once you get registered on them, they will present a choice of suitable matches depending upon your preferences.
The role of these matchmaking websites ends here. The rest is up to you. You can choose to set up a meeting or you can try and verify the details of a given profile. Many marriage portals do no conduct authenticity checks of the online profiles.
According to an article in a leading news daily, nearly 50% of divorce cases are of couples who have met through matrimonial websites. The main reason was misrepresentation of facts. Hence, verify all the facts given in a profile and take 8-9 months before you decide to marry someone you met through these websites.
In order to counter fake representation, many websites are building connections with Facebook, LinkedIn and cybercrime branches. They are also now asking for documentation proof.
Here is a list of such up-to-date and trustworthy matrimonial sites in India. This list is compiled by AcademicJournals and is based upon the traffic these websites receive.
Top 10 Matrimonial Websites in India
Shaadi.com
Shaadi.com was started by Anupam Mittal in the year 1996. It is not only the oldest but the best matrimonial site in India.
The steps to use the website are quite simple. You just need to register and upload your profile. You can set filters and fill in your partner preferences. You can then express interest and accept or decline other's interest in your profile.
Shaadi.com is quite safe and secure to use. It does verification checks on contact details and gives you the option to communicate with people you want to.
There are around 35 million members of Shaadi.com making it one of the largest matrimonial services in India.
The site has won many awards and accolades like best matrimony website, most innovative company and most trusted brand and so on.
Read: Top 10 Furniture Companies in India: Best Indian Furniture Brands
JeevanSathi.com
Jeevansathi.com was formed in 1998 by Sanjeev Bikhchandani who is also the founder of Info Edge.
The website is one of the most popular matrimonial sites in India, especially in the North. It has more than 6 million registered users.
Jeevansathi.com has online features similar to shaadi.com. Though the registration is free, you will need to pay to get contact details of other registered users.
The company also has offline offices through which you can avail its matchmaking services.
Jeevansathi.com is ideal for people who are looking for soul mates but abhor the traditional matchmaking process. Simply log on to the website and start searching.
BharatMatrimony.com
Bharatmatrimony.com is one of the oldest matrimonial websites in India. It was launched in 1997 by Murugavel Janakiraman. There are various other offshoots of this website like assisted matrimony for busy people, elite matrimony for the affluent and ability matrimony for people with special abilities.
It is one of the most trusted and best marriage portals in India. It has even received Limca award for the most number of documented marriages online. It was also named the best website of the year in 2013 and featured in Deloitte's list of 50 fastest growing technology companies.
Similar to jeevansathi.com, Bharatmatrimony.com too has its own offline offices. There are more than 100 offline offices of Bharatmatrimony in India. The company also has offices in countries like USA, Sri Lanka and Malaysia.
SecondShaadi.com
Secondshaadi.com offers a unique opportunity to people who want to take the plunge a second time. It is for people like divorcees, widows and widowers, who want to start their life anew by marrying a second time.
This site is a blessing for such people as second marriages are not looked upon so favorably in India. This site gives freedom to these people to search for their life partner a second time without being judged upon.
It is the best matrimonial site for divorcees in India.
Secondshaadi.com is a branch of CommunityMatrimony, which is a portal that is dedicated to community based marriages.
Also See: Top 10 Best Cooperative Banks in India
MatrimonialsIndia.com
Matrimonialsindia.com caters to a wide variety of preferences. Whether the search is based on a particular mother tongue, profession, caste or religion, or even if you are seeking a second marriage, Matrimonialsindia offers a vast array of choices.
This site caters to both Indian and Non-Resident Indians, having a separate tab for NRI's.
Matrimonialsindia.com was established in 1997 and today has a huge database of thousands of prospective brides and grooms. Hence, whatever be your preferences, your search for a life partner ends here.
LifePartner.in
Lifepartner.in is one of the best matrimonial sites in India. The registration is free and you can view thousands of profiles by simply logging in.
The site caters to Indians as well as non-resident Indians. It has a separate site for people wanting to remarry. The site is called remarriage.lifepartner.in.
It also show cases success stories of people meeting through their site and now leading a happy married life.
Lifepartner.in site is quite secure and very simple to use.
StarMatrimonials.com
Starmatrimonials.com has a very interesting beginning. It was started by a handful of people operating out of their homes. They would physically check the documents and do matchmaking without the aid of computers.
Today, after the formation of the website, Starmatrimonials is providing the same service to thousands of Indians across the world through its friendly web based user interface. It has become one of the most trustworthy matrimonial websites in India.
Though the free membership allows you to view details of a profile, it is only through premium membership that you can view contact details and send messages.
Starmatrimonials.com is a very promising and upcoming matrimonial website for Indians.
Must Read: Top 10 Microfinance Companies in India: Best MFI Guide
Vivaah.com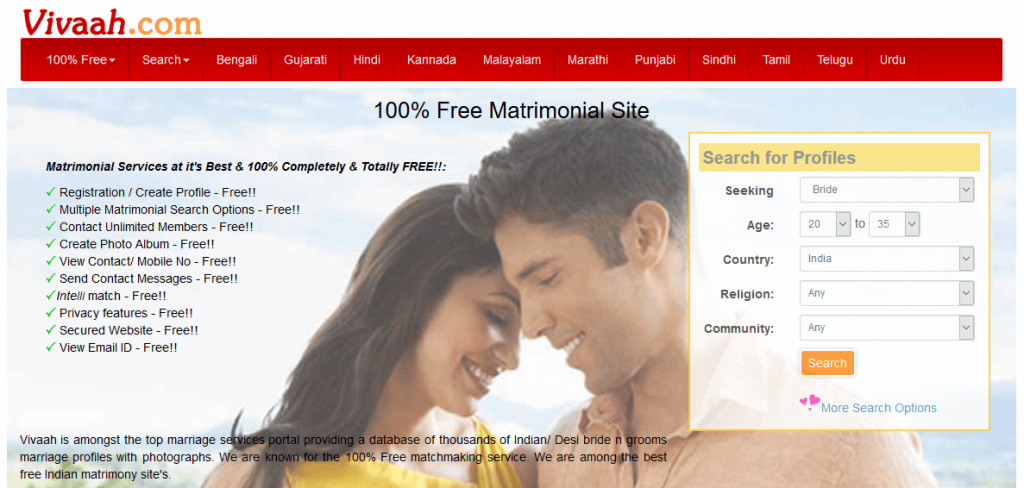 Vivaah.com is one of the top free matrimonial websites in India. It charges no fees for registering or uploading your profile. You can also view profiles of other users.
The website is secure and safe to use as it only releases the contact details once an interest request has been accepted.
As an added safety measure Vivah.com also keeps a track of the ip addresses and the activity done on the website.
Vivaah.com stores profiles based on profession, caste, religion and state. The site also provides the facility of intelli-match, through which the site itself matches profiles based upon similar preferences.
Another upcoming website that uses intelli-match is banihal.com. This website is not exactly a matrimonial website, but uses artificial intelligence to pair up like minded individuals. This start-up is US based but caters to people living in metro cities of India.
InMatri.com
Inmatri.com is a subsidiary of Inmatch which was formed in 1999. The site has over 2 lakh profiles and is one of the topmost matrimonial websites in India. Till date Inmatri.com has documented 25000 marriages.
The company also has a customer support service and has its offline offices located in Thane, Kalyan, Mumbai and Navi Mumbai.
Check Out: Top 10 Best Cement Companies in India: Leading Cement Brands
MeraSathi.com
Merasathi.com is another popular matchmaking website in India. Apart from the regular features like free registration, access to profiles and match making alerts, the website also features Bejan Daruwalla services.
Bejan Daruwalla is a famous astrologer and provides services like janampatri making (astrological chart preparation), marriage compatibility analysis to the users of merasathi website.
Merasathi.com offers preferences based on religion, region and community.
Online profiles can be fake, misrepresented and misleading. It is always better to choose a top rated matrimonial website that has a positive client feedback. It is the website's responsibility to check the facts before uploading them on their websites. Not all websites do verification checks.
Apart from the list of Indian Matrimonial Websites mentioned above, there are others as well that are trying to carve out a niche in the already crowded matrimony market.
Elitematrimony.com
M4marry.com
Sycoriaan.com
Nikah.com
Chavaramatrimony.com
Mangalashtak.com
Bandhan.com
Divorceematrimony.com
Lovevivah.com
Wrap Up – Best Marriage Websites in India
The above was a list of matrimonial websites in India that are popular and most trusted. These websites have been chosen from the 1500 marriage websites in India.
The popularity of such websites has definitely changed the traditional process of match making in arranged marriages. Now, instead of heaven, more and more marriages are made on matrimonial sites!