How to Know the Best Time to Start a Business
If you are wondering when to start a business, you should ask yourself if you are ready to devote the required time and attention to it. The right time to start a business depends completely on the person who wants to start it. It is similar to starting a new relationship.
Although there is no such best time of year to start a small business, the holiday season is quite promising.
Starting Your Own Business
Starting your own business during the holidays has many advantages. People are in the mood of spending money during the holiday season. Whether you start a catering business or a bakery business, you will get customers.
Focus, dedication, and hard work are the three pillars of a successful business. The holiday season often proves to be the best time to start a business. For example, a food business is an easy business to start during the festive season as you will get plenty of customers.
Similarly, if you open a new clothing store during the wedding season or festive season, it will attract plenty of customers. If you want to start a construction business, the best time to start it will be after the announcement of a good budget by the government.
Read: 20 Home Based Small Business Ideas for Introverts
However, there are also some disadvantages of starting a business during the holidays. If you have a big family, you might have to take part in the various social events during the holidays. The holiday season can pull you in many directions, which can ultimately harm your business.
Anytime is a good time to start a company if you are ready to devote time to it. If you are moving to a new place or getting a divorce, you must put your business idea on hold for some time. You need to be in a good frame of mind for starting your own venture.
Best Time To Start A Business
If you are wondering when the best time to start a business is, you should take a look at the following important factors:
Right Time To Start A Business Is When You Are Young
When you are young and ambitious, it is a good time to start a business. Youth is the time when you can afford to make mistakes and learn from them. If you make stupid decisions, you can see them as learning experiences.
Related: Importance of Choosing the Right Location for Business
When you are young and filled with creative energy, you can focus completely on your new company. You have time and passion for your startup business. Most entrepreneurs agree that starting young does not leave any room for regrets.
You Are Not Getting Any Job Satisfaction
If you are not getting any job satisfaction and feel constantly miserable at work, you can think of starting your own company. It is one of the best reasons for starting a small business. There are many entrepreneurs who start their own companies to rebel against their former bosses.
Use your free time to form ideas. Plan and organize about your business. Start networking with influential people.
Before you think of quitting your current job, you must start laying the groundwork for your business. Many people make the mistake of quitting their job and starting a business without being confident about their plans.
You Are Obsessed With Having Your Own Business
Deciding to start a business is the turning point of your life. Although there is money, adventure, and the allure of becoming a self-made person, it is a challenging task to start a business.
There are many people who think of business ideas whenever they get time. They are passionate and obsessed about starting their own business. They cannot stop talking about their business ideas with their family and friends.
If you have great entrepreneurial ideas in your mind, it might be the best time to start a business. No matter what work you do, if you can't stop thinking about your own business, it is time you get serious about it. Passion and long-term commitment are essential for a business to be successful.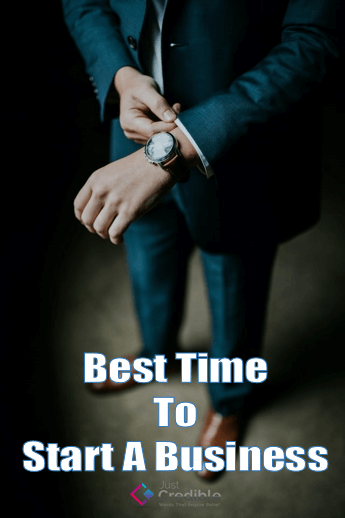 You Have Freedom And No Responsibilities
The best time to start a business is when you have freedom and no responsibilities. When a person has plenty of responsibilities, he cannot be in the right frame of mind to start his own business.
This is the reason why you should start a business when you are young. People have fewer responsibilities when they are young. It is also true that responsibilities and age are not always related.
If you have some business ideas with low investment, go for it. Do not wait until you get trapped by tuition bills of a private school, expensive annual family vacations, and a mortgage.
You Are Decisive And Do Not Get Scared By Challenges
If you want to be your own boss, you need to be brave and decisive. Challenges must help you perform better. If you are good at making decisions and get excited by overcoming obstacles, you are ideal for running a business.
You enjoy dealing with marketing and sales, financial challenges, and creative elements. You can make plans and make things happen. If you are good at meeting deadlines and managing your priorities, you should think of starting a business.
Also Read: 15 Most Rewarding Business Ideas for Lawyers and Attorneys
You Want To Live Your Dream
Your business is your dream. You will no longer work for someone else's dream. If you are excited about living your dream every single day of your life, it is the best time to start a business.
Best Time To Start A Business Is When You Are Ready
If you have a steady job, you do not need to quit it in order to start your business. Once your business gives you great returns, you can quit it.
The best time to start a business is when you are ready for it. You must have time, energy, resources, and the drive to commit to your business.
Wrapping It Up
You must consider your personality, your financial situation, and the effect on your family to understand if you are ready to be an entrepreneur. If you are indecisive and broke, starting a business can be a disaster.
If you are ready, you can find plenty of small business opportunities. Whether you start a part-time business or a full-time business, you must focus on it with complete dedication. As starting a business is challenging, do not start it when you are experiencing a lot of stress in your personal life.