Here's How to Cultivate a Reading Habit That Will Last
By developing a reading habit, you are actually creating a safe haven for yourself, where you can retreat from all the troubles and miseries of life. If you would like to get into serious reading, there are several ways to encourage reading habits and cultivate it so that you can derive a lifetime of benefits.
There used to be a time when people used to go to the library and bedtime rituals for many involved reading books instead of scrolling up and down a mobile phone. But for most Americans, book reading is plummeting and giving way to television and mobile screens. I know many people who resolve to start reading, but the resolve fades away soon like a New Year resolution. Like any other habit, you need to put in some time, effort and dedication to develop it.
10 Ways to Cultivate a Lifetime Reading Habit
What Type of Reader Are You?
We are not all alike. We love different genres. Some love ebooks, while others love physical ones. Some love to just skim and read while others underline quotes, make references, highlight lines and so on.
Try and identify the genre you prefer. Do you like to read about grounded facts, a historical, biography, essays or are you a fiction fanatic?
If you have the habit of reading books, are you a literary snob or do you just like light novels?
Are you a physical book lover, an ebook fan or do you prefer audio books?
Setting up a Schedule for Good Reading Habits
A schedule is important, otherwise you just aren't going to make it a habit. Reading is something that you just cannot multitask. It requires your total and undivided attention, not like watching television.
If you've just started on the path of reading, start with baby steps. Read for half an hour every day.
After cementing the habit, increase the time devoted to reading.
Break up the reading into multiple sessions spread over the day.
Trigger it with another activity. Make it a habit to read for a short while after dinner and before going to bed everyday.
Don't break the chain. Maintain a calendar and mark an X every day that you read. Log your reading every day.
Schedule about 30 minutes a day for reading.
If you cannot schedule a fixed time, read during a work break, lunch break or at other awkward times when you don't have anything to do.
Make sure you always have your book with you throughout the day.
Choose a fixed, comfortable, quiet place where you can read without distractions of attending the phone, answering emails or just doing some household chores.
Related: Top 10 Best Positive Thinking Books Of All Time To Read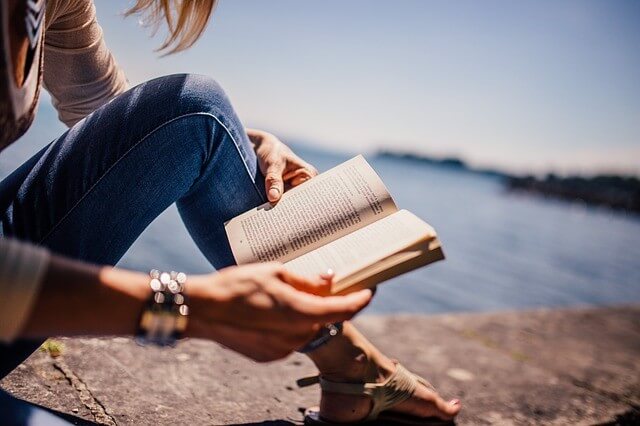 Setting a Reading Goal to Improve Reading Habits
It's quite challenging to stay on top of your goals, as there are a million things going on in our lives.
How to start reading books? Set a reading goal for the year. Say, you aim at reading about 50 books this year.
Select 5 books to begin with and then keep adding to the list.
Check of the books as and when you finish them.
Make sure that you keep your goal to yourself. One study found that those who share their goals with others are less likely to achieve them, as the motivation is reduced.
Remember to take the book with you everywhere you go. You could be stuck in a dental clinic waiting for the doctor to show up! Perfect time to catch up on reading.
Tools to Develop Effective Reading Habits
Apply some geekery to your reading habits and see how quickly you achieve goals.
Use apps like Bookly for stats tracking. You can organise the book collection, keep track of reading time, collect information about the books you want to read, check out estimated time for finishing it, track whom you've lent it to and so on.
One of the ways to improve reading skills in students is to use tools like Goodreads, which can help you track reading lists, rate a book or write a review and connect with several other readers to get book recommendations.
Make a reading list but don't overdo it, especially if you're just getting started at reading.
Tip: Try book blogging to inspire you to read more.
Join a Book Club
It's an arena where you can read great books and discuss them too, meet new people who enjoy reading books. It can be an intimate book club consisting of your close friends or a professionally run one, as part of healthy reading habits.
It can help you extend your reading and try out new genres that you would not have chosen on your own.
When you discuss books, it helps reinforce details in your mind and you retain information better.
You get more motivation to read more and reading suddenly turns into a priority, as there are deadlines. All members meet at scheduled times every week or month to discuss the book, so it motivates you to finish the book as you need to discuss it.
You can also join an online readers group, where you can share your reading lists, reviews and make book recommendations to keep updated with the latest books.
Discussing books with friends spices up your literary life and makes reading books more interesting.
You can also take part in reading challenges or reading activities that present new reading tasks.
Discount Book Stores
The Internet is your best bet for accessing discount book stores, with great alternatives to Amazon. There are several websites selling cheap books online.
You can get a book from the library for sure, but if you want a book for keeps buy a used book, as book prices have been rising slowly but steadily.
Tip: After reading a book, you can pass it on to someone else!
Must Read: Why You Should Read Every Day: 10 Benefits of Reading
Reduce Television Watching
Staring at a mobile screen or binging on television shows is not doing much good for your brain or your health. It can give you instant gratification, but it disturbs your sleep.
Reduce television time and devote it to reading. It will improve your sleep, reduce stress and improve your intelligence and brain power.
Reading books is an active habit while watching television is a passive activity and can even lower your IQ as there is no input by viewers. On the other hand, when you read, you have to use your imagination, create a vision of the words and events that are described, thereby stimulating many brain functions.
You get more reading time by reducing TV time, so you can increase your focusing and concentration skills, as multitasking is not possible.
Read Books that You Really Enjoy
While considering the best books to start reading habit, check out ones that you are interested in to begin with.
When you read something that you truly enjoy, you just won't put it down. You get immersed in it.
Remember it's ok to give up a book if you find yourself yawning over it. Just give it a try for a few more pages before giving up. Reading is supposed to be an enjoyable experience.
Read reviews online to know what people are saying about a book. Try reading the first few pages or the back cover and see if it excites or sparks your curiosity.
Reading to Others
Reading for kids and others is also a great way to get you interested in reading.
Read to an elderly person, your children or a friend's child.
This helps increase your interest and excitement about reading a book.
It also helps you to stick to your reading schedule or habit when you're committed to someone else.
Tip: You can also involve yourself in fun activities to inculcate reading habits.
Check Out: 7 Home Based Small Business Ideas for Book Lovers
Investing in E Readers
One of the top ways to encourage reading habits is to invest in an E reader.
Invest in a tablet device or an e reader. Tablet owners read more than others. Think of investing in Amazon Kindle, whereby you will have access to many classics that are free to download. It's a cheap and easy way to access the best books in the world.
You can take these ebooks with you while traveling, read them on your morning commute, while standing in a grocery line or while waiting at school to pick up your kids.
Tip: Reading in the Wild is a great book that teaches you how to become a lifelong reader.
Wrap Up
A larger percentage of Americans have not picked up a book at all during this year. According to poll results from Associated Press and Ipsos, 1 out of 4 Americans do not read books and 50% of them read less than 4 books a year!
It's sad and even scary to see that the ability to read is also slowly declining. Even if you're a late bloomer, it is still worth it. I cannot describe to you the joy, excitement and sense of pride that you feel when you finish an interesting book. You will become more passionate about life. You will start dreaming and understand your true nature. Your world will become much bigger and new horizons will open up.
Start reading today! Put in time, energy, determination and an obsession. It will take some time but reading will soon become your second nature and you can also turn into a bibliophile!