Easy Christmas on a Budget Ideas
It's that Christmas season again. Like any festivals, Christmas too is an expensive affair. So, I thought, why not write an article about some frugal Christmas ideas to plan some inexpensive Christmas celebrations. It would be wonderful, if we could enjoy Christmas on a manageable budget.
I have seen many of my friends going bankrupt (not literally 😊) at the end of every festival season. It made me think – Do we really have to spend such an amount of money to have a merry Christmas? The answer I found was we can have a spectacular Christmas on a budget. Let me breakdown my analysis and tips in the coming paragraphs.
All Starts with Some Good Planning
Start planning early for your Christmas. How early? I would say one month would be good enough to start preparation for your Christmas Celebrations. Don't worry if you haven't started yet. You can start your planning any day before Christmas.
There are two things to be planned.
The amount of money you are ready to spend for Christmas – average Christmas spending. In short, budget for your Christmas celebrations.
The activities you are planning to do and the Christmas gifts you are planning to purchase. List down the expected expenses for each of the activities/gifts identified.
After estimating the above two points, try tallying your budget and expenses. Make adjustments so that it fits with your frugal Christmas Budget. Once you know the amount of money you are supposed to spend for Christmas in advance you can plan your other expenses accordingly.
Still there is a problem. What if you are not able to match your expenses with your budget? Removing expenses from list would not work always, as some of the expenses are unavoidable for Christmas season. So, the trick here is to achieve things in our list at the least possible price. We will discuss that in detail.
Your Christmas is not about the money you spend for your celebrations. It's that time of the year when everyone comes together and be part of the Christmas spirit. So, worry less about money and think more about the celebrations.
Christmas Gifts on a Tight Budget
Christmas gifts are one of the major expenses during a Christmas season as we will have to gift our friends, relatives and neighbors. There are so many of them to buy gifts for. Buying gifts need to be budget planned separately.
Make a list of all those who you should be buying gifts for.
Have a look at the amount allocated in your Christmas budget for gifts purchase.
Make an idea about the amount of money you are ready to spend on each person from your list.
In most cases, you will end up at an overshot budget. But doesn't matter. Let's see what can be done to have Christmas gifts for family on a budget.
Must See: What Your Employees Really Want for the Holidays
How About Making Your Christmas Gifts?
All of us have some or the other skills. Some sketch well, some do handicrafts, some does woodwork and so on. How about making a hand made gift rather than gifting something purchased from shops?
Such a gift would definitely be considered more valuable than any other gift. Apart from money, you have put your time and efforts into it. That's really special. This way, you have cheap but special Christmas gifts for your friends.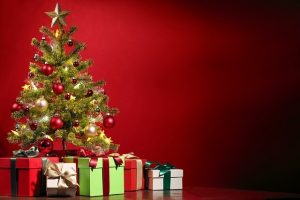 Gift Exchange in Your Neighborhoods and Families
You must be part of a number of social circles. It's impossible to gift each one of them with Christmas presents. So how do we do this. There are a number Christmas Gift exchange game ideas available online. Select something that suits your group and suggest in your circles. That way, you can keep Christmas spirit alive in all your circles.
Gifts are a way to say that you care for your friends. Gift your friends and relatives with some thing special and personized for them. It's an amazing way of spreading the merriness of Christmas.
Shop Early – "Christmas on a Budget Idea"
There would be a spike in prices of everything Christmas related during December as the demand will be at an all time high. So, if you are someone who plans for your Christmas in advance, it would be wise to start your shopping early. This way your Christmas shopping will be completed at a much lesser rate.
Also keep the items you bought secured for next Christmas. Many things can be reused for a few Christmases.
Look Out for Christmas Deals
Don't worry if you have missed out on early shopping for Christmas season. Keep looking out for Christmas special deals and discounts. All the major shops and online portals will be running special sales for Christmas season. Make sure you don't miss on some amazing Christmas deals.
Keep tracking major websites running exclusive Christmas deals.
Digital Christmas Cards
Christmas cards are an essential means for connecting with your long-distance friends. Today, with all the advanced designing software's, its easy for anyone to design a Christmas card on their own. Instead of spending money on expensive Christmas cards, invest your time in designing personalized Christmas cards which would be more valued by your friends.
Also, they need not be always printed to hard copy and send. You can even send them as digital copies. People value your cards not for the money you spent on that, but for the time you spend on choosing or making it for them
Canva is a good online design website where you can design beautiful Christmas cards as per your liking.
Frugal Christmas Dinner
Christmas dinner do not require a wedding like spending. People do make the mistake of spending too much on Christmas dinners. One of the best ideas for Christmas dinners on a frugal budget would be organizing special Christmas dinner get togethers where each family prepares their part.
It's that sharing spirit that makes your Christmas worth remembering. So, it's always better to have celebrations together with your friends or relatives.
Inexpensive Christmas Decorations
Most of the unnecessary expenses happens in case of the decorations for Christmas. People usually buy expensive decorations available in the shops which takes a hit on their Christmas budget.
Instead of buying ready made decorations from outside it would be an economical idea to create Christmas decorations of your own. Christmas cribs and trees are better when you make it yourselves. The members of family can work together and set up all the decorations for Christmas, which is essentially the spirit of Christmas.
Be Part of a Community
Make sure you are an active part of your church community. Take active part in organizing the Christmas celebrations of the church. By brain storming with like minded people, you will find a lot number of ways to add merry to your Christmas. Christmas carols are an important part of your Christmas celebrations.
Go around all the houses in your community in groups singing carol songs and spread the joy and blessings of Christmas everywhere.
Always make sure you plan your Christmas celebrations as per the money you saved for Christmas or the money you have in your hand. Resorting to credit cards or short-term loans for your Christmas celebrations is never a good idea.
Save for Your Christmas
This is for those who start Christmas planning in advance. Everyday we make a lot of avoidable mistakes. They might be of small amounts. But if we are able to re-direct all these expenses to our fund for Christmas, when we approach Christmas season, we would be having a good amount of extra money. This could add more color to our Christmas celebrations.
Also, one final note. There are many people not fortunate enough, with much less money in their hand who could not celebrate Christmas. Help them with whatever you can. Keep some money aside for that too and as the ultimate Christmas celebration is to spread love and joy to the people around you.
Summing Up Christmas on a Budget Tips
So far, we have seen a number of Christmas on a budget ideas. Like I already said, it's not the money that you spend which makes your Christmas worth remembering. It's the people you have wished, the happiness you shared, the smiles you exchanged, Christmas pastries, the family Christmas dinner, Christmas Crib, Christmas tree, Christmas lights and many more.
I believe this article would be of great help for those who are planning to enjoy this Christmas on a budget. I end my article quoting a wonderful line from the 1998 movie Scrooged:
"It's Christmas Eve. It's the one night of the year when we all act a little nicer, we smile a little easier, we cheer a little more. For a couple of hours out of the whole year, we are the people that we always hoped we would be."
Happy Christmas All!!!