Starting a restaurant business in India can be an extremely profitable venture after passing out from college. The restaurant industry is one of the most successful industries in India.
If you have an ambition of a restaurant startup, you should start working on it right after college. Opening a restaurant requires hard work, perseverance, and dedication.
How to Start a Restaurant Business in India for New Graduates?
Plenty of Indians are eating out at luxurious restaurants these days. Rapid urbanization, rising income, and technological advancement are responsible for the mammoth success of the restaurant business in India.
Starting a restaurant in India is a great decision but you must know some tips.
If you want to start a restaurant business, you must take a look at the step by step guide that will help you to be successful.
Decide on the Type of Restaurant that you Want to Open
The first thing that you need to do for starting a restaurant is to decide the type and concept of your restaurant. There are various formats of restaurants such as:
Fine dining
Takeaway joints
Resto-bar
Food carts
QSR, and
Cafes
You need to decide the format after considering your budget.
Read: When Is The Best Time To Start A Business?
The cost of starting a restaurant in India depends primarily on the format of the restaurant. Before you start a restaurant business, check the funds that you will be able to raise for your venture.
Do not worry about how to get funding for a restaurant. If your venture is small, you can raise funds from your personal savings or take help from your family and friends.
If your project is big, you can approach angel investors, banks or non-banking financial institutions. You have to provide a professional presentation in order to justify the feasibility of your project.
Research About the Local Culture and Food Preferences
Before you start a restaurant business, conduct research on the local culture. It will help you understand the food preferences of people.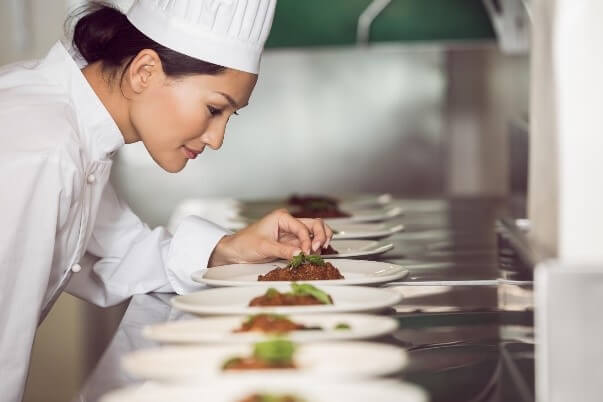 You can decide the cuisine and dishes of your restaurant after your research.
The food preferences of people vary from place to place.
As many meat products might be banned in Delhi NCR, it will be foolish to open a steak shop there. If you are thinking of starting a restaurant business in Ahmedabad, you won't get an alcohol license. Therefore, it is important to understand the rules of each state before starting a restaurant in India.
Decide the Cuisine and Theme of Your Restaurant
Once you decide the type of restaurant that you would like to open, you need to think about the cuisine and theme of the restaurant. The interiors must go well with the theme of the restaurant.
After finalizing the cuisine and theme, you need to draw a restaurant business plan. This is extremely important because you have to present your restaurant business proposal in front of your potential investors.
Also See: How to Start a Florist Business: Running a Flower Shop
The restaurant business plan serves as a roadmap for the development of your business. If you want to start a restaurant business, you must have a very clear idea of your restaurant. Your clarity should reflect in your business plan.
You must write the restaurant business plan in an easy, logical, and understandable manner so that your potential investors can easily understand it. The business plan must include summary of your business, business overview, industry analysis, SWOT analysis, financial analysis, operations plan, and marketing plan.
Calculate the Expenses and Operational Cost of Your Startup
If you plan to start a restaurant business, you must know about the various costs involved with it. First of all, there is the expense of renting a location to start your restaurant. The rent should not be more than 10% of the total revenue.
Then, you have to buy kitchen equipment and decorate the interiors according to the chosen theme. Purchasing good quality kitchen equipment may seem expensive, but you will be able to recover the cost once your restaurant runs successfully.
The other overheads that you must consider are restaurant licenses, gas, food, electricity, manpower, POS, marketing, and advertisement. Calculate the expenses properly when you are preparing your restaurant business plan.
Must Read: 8 Home Business Ideas for Food Lovers with Small Investment
The food cost must be 25% to 40% of the price of a dish written on the menu. It is the total cost of the raw materials that are used for preparing a particular dish.
In order to promote your business, you must spend about 2% of the revenues on marketing and advertising. If you want to run a restaurant successfully, focus on both online and offline marketing.
Get all the Licenses Required to Open a Restaurant in India
If you are wondering how to start a restaurant business in India, you must get all the important licenses. This is one of the most important steps for starting a restaurant. You must start early because it can take almost a year to acquire all the important licenses.
FSSAI provides food license which is one of the most important licenses for a restaurant business. The location of your restaurant, size of your business, and turnover are some factors that play a role in getting an FSSAI license. It will cost between 5000 and 10,000 INR.
The next important license for your restaurant business is the trade business that you need to acquire from the municipal corporation. If you are opening a small restaurant, the cost for the license will be between 5000 and 10,000 INR.
Some other important licenses that you need are professional tax license, liquor license, eating house license, GST registration, business registration, pollution control certificate, and fire safety license.
Finalize the Location for Your Restaurant
If you want to run a restaurant successfully, choose the location wisely. The location plays a vital role in the success of your restaurant business.
Before you finalize the location, identify your competitors in the area. Analyze their business model and track their progress. Do not assess your competitors only on the basis of cuisine.
You must also consider the dining experience that other restaurants in that area are providing. See whether they are offering fine dining, casual dining or takeaways. Once you evaluate your competitors, you will have a clear picture of the customer base of that area.
Check: Fast Food Business: How to Start a Small Street Food Outlet in India
You must ensure that the location is visible and accessible. Avoid upper floor locations as they have low visibility. It can be difficult for customers to locate the restaurant.
If your restaurant is on the ground floor or in front of the main road, you will get many customers every day. Do not forget to get a No Objection Certificate from your neighbors before opening your restaurant.
Hire Experienced and Sincere Staff
One of the key elements of a successful restaurant is an experienced staff. If you have a talented and experienced chef, your restaurant business has a great chance to be successful.
Contact hiring agencies and look at newspaper ads to recruit talented people. Apart from the chef, you will need other kitchen staff such as cooks and helpers. You will have to hire an efficient restaurant manager and cashier.
When you are hiring service staff, ensure that they have a friendly demeanor so that they can please the customer. Waiters, delivery boys, and housekeeping are the important service staff members.
Collaborate With Quality Food Vendors
If you want to start a restaurant business, you must tie-up with quality food vendors. Choose at least two food suppliers who are reliable and trustworthy. They must be able to supply the daily requirement of food items.
Do not rely on only one food vendor. If for some reason, the food vendor cannot meet your daily requirements, your business will suffer loss. You must have a backup vendor.
The food vendors must have a registered company with a valid TIN number. Do a quantity and quality check before you collaborate with a food vendor. Make a legal contract with your food vendor to keep your business safe and secure.
Read: How to Start a Bakery Business in India: Guide to Becoming a Successful Baker
Design the Menu and Logo of Your Restaurant
If you want to make your restaurant a success, you must have a great menu. Take the help of your chef in naming the dishes. Include a variety of items that your chef can prepare in a short span of time with easily available ingredients.
When you are setting the price of dishes, keep your competitors in mind. After you have decided the name and price of the dishes, hire a talented graphic designer.
The job of the graphic designer is to design the logo and menu card of your restaurant. The logo of the restaurant will appear on the paper napkins, tableware, and staff uniform.
Hire an Interior Designer
The next step for starting a restaurant is to hire a talented interior designer. You have already decided the theme of your restaurant. Explain it to your interior designer so that he or she can make your vision transform into reality.
You should pay special attention to beautifying the restaurant. Your customers will first see the ambiance and décor. The food and service will come much later. Spend time with your interior designer to choose the right furniture, lighting, and seating arrangement of your restaurant.
Make a Marketing and Advertisement Plan
When planning to start a restaurant business, you cannot ignore the importance of marketing. People will get to know about your restaurant through proper advertisement. You must distribute pamphlets of your restaurant to reach more people.
See: How To Start An Ice Cream Parlor In India: Starting Ice Cream Business?
You must use the power of both offline and online marketing to run a restaurant successfully. Promote your restaurant through social media channels like Instagram and Facebook. Your restaurant must have an official website.
You can collaborate with popular food bloggers. Ask them to review your restaurant in exchange for a free meal. You must also tie-up with popular food delivery apps such as Zomato and Swiggy for the success of your business.
Adopt Restaurant Technology
Owning a restaurant is not a challenging task. The challenge lies in making your restaurant popular. Befriending technology is one of the key elements of a successful restaurant.
Point of Sale (POS) Systems help in managing orders and bills in a systematic manner. As we are living in a digital world, you must adopt restaurant technology.
Many restaurants run loyalty programs for their customers. Technology will help you to connect a loyalty program to your POS. You can use restaurant management software for accepting payments through e-wallets and smartphones.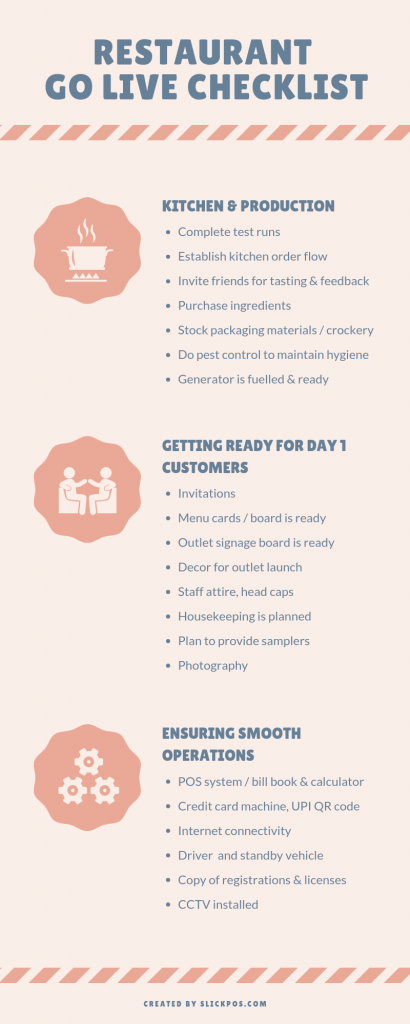 Start a Social Media Campaign
Start a social media campaign before inaugurating your restaurant. It will help in building the hype around your restaurant. You must utilize the power of social media smartly when you start a restaurant business.
Related: Planning to Open a Restaurant? Here's How to Hire a Cook for Your Restaurant
If your budget permits, you can hire a reputed digital marketing agency. They will help in creating buzz around your restaurant. As people will discuss your restaurant on Twitter, Facebook, Instagram etc. the chances of your success will be higher.
Train Your Staff Members
If you want to run a restaurant successfully, you must train your staff members to display the best behavior with customers. Your staff must greet the customers in a friendly and cordial way.
Remember that training the staff members will help in preventing common mistakes like mixing up of orders, serving low-quality food, and spilling drinks.
In case any of these situations occur, handle them cleverly. You can provide an extra dish for free or give a refund. This will help in creating a great reputation of your restaurant.
Check Out: How to Franchise Your Restaurant Business for Growth?
Wrapping It Up
There are plenty of restaurant business ideas that college goers have. However, they fail at executing their ideas because starting a restaurant in India seems overwhelming. Now that you know how to start a restaurant business, you must chalk out your business plan.
If you follow the step by step guide to starting a restaurant business, you will be able to achieve great success right after college. Choose a perfect location so that you get new customers every single day. Focus on creating a tempting menu card with your chef.
You must remember that you cannot run a restaurant single-handedly. Value your staff members because the success of your restaurant will depend on their work and sincerity.