Starting an ice cream business is a wonderful small-scale business opportunity with a low capital investment. A good knowledge about ice cream manufacturing plan is necessary for establishing a successful ice cream making business.
The demand for ice cream is increasing significantly these days. From a premium food item, ice cream has now become a food item enjoyed by all sections of society.
This new demand being created in this food segment opens up large opportunities for people to venture into ice cream making business.
Read: Top 11 Best Self Employment Ideas in India with Low Investment
Here we discuss about the basics of an ice cream making business and about the upcoming opportunities and challenges in this business area.
This article mainly deals with two aspects of ice cream business –
Details of an ice cream manufacturing process and
An informative ice cream business plan
Why Start an Ice Cream Business?
I bet all of our readers like having ice creams. I would say that's the best reason to venture into an ice cream making business.
In these days where we have hotter summers, it's always refreshing to have an ice cream. Also, we have a number of flavors and varieties of ice creams these days, that it is impossible to get tired of eating ice creams.
Ice cream business largely considered as a subsidiary of dairy business has evolved as a significant industry in the recent times. The growing consumer culture has greatly contributed to the growth of this industry.
In the next section, let us quickly understand how ice cream is manufactured in a large scale.
Gone are those days where customers just came for ice creams. Today customer wants to try something different always. So always try experimenting with flavors, toppings, types and even packaging.
Ice Cream Manufacturing Process
Let's start with the raw materials required for ice cream making process. The most commonly used raw materials are milk, milk powder, cream, sugar, various flavors, stabilizers etc.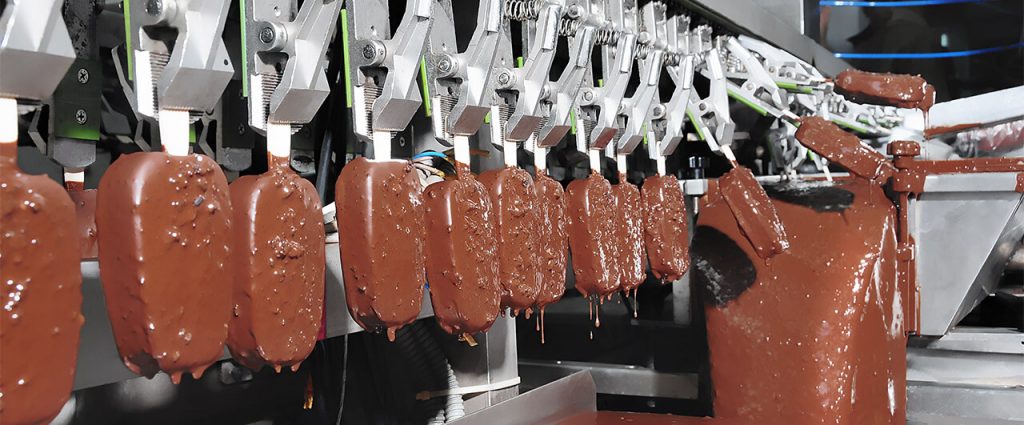 Ice cream manufacturing process can be divided into two stages mainly – the condensing stage and the freezing stage. The raw materials listed before are blended and processed for making ice cream.
Industrial ice cream makers are available in the market with different prices for different capacities. Make sure you select the right one that suits your requirements.
Important steps in the manufacturing of ice cream are as follows:
Milk, cream, stabilizers etc. are blended uniformly so that a complete homogeneous mixture is obtained.
After blending, the next step is pasteurization or heating of the ice cream mix. This is to ensure longer shelf life. Ice cream mix is usually heated at around 70 degree Celsius for about 30 minutes.
After blending and pasteurization of the ice cream mix, we proceed to homogenization process of ice cream mix. Homogenization is the process of breaking down milk fat molecules so that they form a better emulsion. Homogenization ensures that the emulsifiers and stabilizers added are evenly distributed in the ice cream mixture before it is frozen.
Next step is to age the ice cream mix at 5 degree Celsius for 4 to 8 hours. Aging helps in properly conditioning the fat system, that it cools down and partially crystallizes before freezing. Liquid flavors and colors if required can be added during this stage. Make sure you add only liquid ingredients at this time.
The ice cream mix is then frozen using batch or continuous freezers. Batch freezers come with a rotating barrel which is half filled with the ice cream mix. As and when the barrels rotate, the air in the barrels gets incorporated into the ice cream mix. Once the mix is frozen, fruits, nuts, candies or any flavors can be added to the mix.
So, this is a brief outline about the ice cream manufacturing process. A good knowledge about the raw materials required, equipment required and knowledge about ice cream processing steps is critical for starting a profitable ice cream making business.
Distribution of ice creams to target customers is very important in ice cream making business. Set up the distribution model along with the setting up of plant. Also work on your distribution strategy – you can either sell through distributors or sell directly to retailers. Analyze both options, and find out which works better for you.
How Do We Ensure Quality of Our Ice Cream?
A good quality ice cream is expected to contain a 10% milk fat, 3.5% protein and 36% total solids. Cow or buffalo milk is commonly preferred for ice cream making.
Only permitted food colors are to be used. Stabilizing agents are usually added but make sure they don't exceed 0.5% by weight.
After manufacturing, ice cream should be packaged well and stored under required refrigerated conditions.
Always remember, only good quality ice creams could help in building your brand in this segment.
Read: Cashews Cultivation: How to Start Cashew Farming
Read: How to Start a Candle Making Business at Home: Startup Guide
Setting Up an Ice Cream Business
Understanding the trend in this business is important when you are developing your ice cream business plan. There are only a few big brands and there is always space for localized brands. Changing lifestyle and eating habits of the current generation has projected an average growth 10-15% for this industry.
Before writing the business plan for your ice cream manufacturing business, research about the other ice cream businesses operating in your area and the common varieties and flavors of ice cream that are in demand in the local market.
With these inputs, draft a detailed business pan covering all the aspects of setting up an ice cream manufacturing business.
Choosing location for setting up your ice cream manufacturing factory is another critical decision concerning the success of your ice cream making business. Try setting up as close to the geographies where you sell your products, as you can cut down on your distribution expenses.
There are various legal procedures to be completed, licenses and permits to be taken while setting up an ice cream manufacturing plant. Make sure you adhere to all the legalities, so that you don't need to run into loses.
A catchy and relatable name is needed to promote your product in your local market. You can market your product through fliers, banners, brochures in retail ice cream outlets. Having a website for your brand and a good social media presence also would be helpful for increasing the visibility of your brand and products. With your brand well established, you can work on widening the product offering of your brand.
With the right focus in quality as well as the variations in product offering, ice cream business could be a thriving business opportunity in today's market.
Ice cream making business is a working capital-intensive business. From manufacturing point to reaching customers, there are a lot of people involved. So, you should have a good knowledge about the supply chain involved before setting up an ice cream making business.
Franchising or Own Business?
This is the most common dilemma faced by most budding entrepreneurs. There are big ice cream brands like Baskin Robbins which are already well established in the market. Why don't we open up a franchise store of any of those and sell ice creams? Let us understand this in perspective of an ice cream business.
Franchising has its own benefits. Customers will flock to your store, all thanks to the huge brand name associated with your store. But on the downside, these brands will eat away your profits. You will have to pay a huge upfront fee and a share from your profits, in return for the brand value they provide to your store. Also, you will have to abide by the rules set by them for their franchisees around the world.
Read: Franchising: Pros & Cons of Buying a Franchise Business
In case of own business, you have the freedom to set own rules. You can be innovative with your products and experiment with them. You don't have to split up your profits with anyone.
My personal opinion on this debate would be to start a business on your own, with own manufacturing or even an outsourced one. It's a challenge building your brand in this competitive segment. But with the right ideas and efforts put in, you could hit the bull's eye. In long term, you can even sell your franchises.
Summing It Up
So far, we have discussed all the important aspects regarding ice cream making business opportunities. With the market and consumer preferences changing every day, there are scope for new ice cream business ideas.
Related: How To Start An Ice Cream Parlor In India: Starting Ice Cream Business?
So, my advice to all budding entrepreneurs venturing into ice cream making business, would be when you start working on your ice cream business plan, try to bring something new or unique into it.
Newer trends like Nitrogen ice creams are catching up in the market. Do a little research and come up with some wonderful business ideas. Best wishes to all!!!