If you are interested in starting a tissue paper manufacturing business, there's good news as far as demand is concerned. Paper napkins are used in a huge volume by homemakers and restaurants, so the tissue paper making business stands a high chance of success!
In addition, you also need only a small amount of capital or investment to start this business on a medium scale. Of course, you can do this tissue paper manufacturing business on a small, medium or large scale according to individual investment capacities.
The demand for this industry has seen a steady increase due to increasing health concerns and allergies. This has made many households and restaurants turn to use tissues as they offer greater hygiene and cleanliness.
Read: How To Start Matchstick Manufacturing: Low-Cost Match Sticks Making Business
Tissue Paper Manufacturing Project Report
This is the planning stage, where you will have to create a business plan.
There are different types of tissue paper. Focus on the kind of tissue paper business you plan on doing.
Consider the equipment you will need and the amount of money required.
Chart out the number of employees, the property or location, the raw materials required.
Make a flexible plan, so that you can make changes even after finalising and while running the business.
Research and Market Potential of Tissue Paper Manufacturing
Before starting a tissue paper manufacturing business, you need to make a thorough market research about the demand for the product, production costs etc.
Set your target market for your product. There are restaurants and hotels to begin with. In addition, you can target, schools and shops, hospitals, maternity homes, clubs and churches.
How to make tissue paper? Gather information regarding the manufacturing process of tissue papers, the amount of working capital you will need, the machinery or equipment needed, funding sources etc.
Talk with tissue paper manufacturers and similar business owners who are running a successful tissue manufacturing business to get information. The local Chamber of Commerce is your best option for locating other similar businesses for advice.
The demand for tissue paper in the US has remained steady for over 17 years and the market is growing steadily at an annual rate of 2%. This is a great advantage to the companies, as recession has not affected this business.
In addition, the private label companies are also doing fairly well compared to the branded counterparts, with a good market share of around 32%.
As a local manufacturer, you have the advantage of setting a lower price as compared to the branded counterparts. If you supply locally, it is more advantageous, as you will not incur shipping costs.
Business Knowledge
Get knowledge, training and hands on experience connected with the tissue paper manufacturing process.
There are online courses offered for improving your skills and for improved understanding of the tissue manufacturing process and technology involved.
For instance, if you have planned to start a tissue paper making business, you could visit nearby factories and observe the manufacturing process.
Alternatively, get training from experts or apply for an internship at other factories, making notes about the process.
There are many tutorials and courses that can help you learn more about the tissue manufacturing procedure.
Update your knowledge by reading relevant online journals, magazines.
Join an association consisting of paper manufacturing companies.
Read technical articles at technical source library.
Interact with tissue manufacturers as well as clients.
Attend trade shows as well as conferences where you can intermingle with different tissue paper manufacturers and associations.
Business Plan
Create a business plan with a good marketing strategy in place, your start up costs, your goals.
Consider the number of employees you need to hire. If you hire experienced people, you can hit the ground running instead of training them and wasting time. You will also get improved quality of product with experienced workers.
A good plan can serve as a guide for you and your employees. It will help you keep track of the goods produced, whether you are keeping up with the quality and product specifications.
Tip: You can take the help of an expert for drawing up your tissue paper business plan, for a small fee.
To get the necessary licenses, business registration, documentation and other formalities in order before you start your business.
Niche Ideas
The industry has seen great demand in different types of tissue paper.
You can manufacture different types of tissue paper: Choose your niche from among these. You can choose one or more than one as well.
Paper napkins
Toilet paper Rolls
Paper towels
Facial tissues paper
Specialty tissue
Wrapping tissue
Wet wipes or wet tissue paper
Further, you can opt for chemical tissue papers, mechanical pulp or recovered paper to minimise environmental impact. Check out the raw material for tissue paper manufacturing along with the manufacturing process.
Remember: To train your workers properly while handling the machine and maintaining hygiene.
Check Out: How to Start a Candle Making Business at Home: Startup Guide
Selecting a Location
When you want to start a tissue paper making business, you have to select the correct location for your business.
You need to rent a space for your business. Select a proper location for your tissue manufacturing business. It need not be large, but it must be apt. You can even start out with a small building and then upgrade to a bigger facility once you have more funds.
Noisy machines disturb the peace of the area, so be careful to abide by the rules and regulations of your country.
Remember: To select a locality that is far from residential areas. A moderate space of 200 sq yards is sufficient. It all depends on the number of machines and people you are planning for your business.

Tip: You can approach a realtor , as they are experts and can advise you on buildings that are more suitable for the tissue paper manufacturing business.
Investment and Funding
You will need to make a moderate investment in this paper napkin manufacturing business.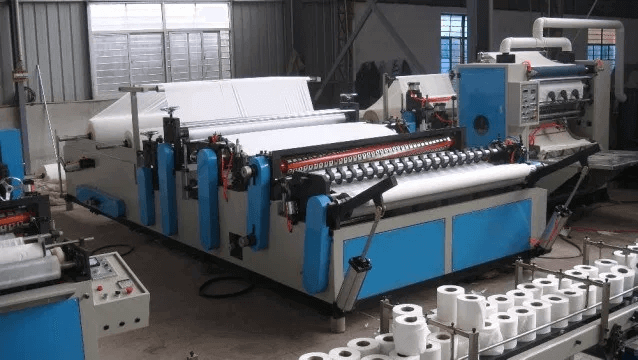 Some amount is needed for buying the raw materials. For instance, huge rolls in the desired shape and softness.
You will need to buy a tissue paper manufacturing machine. Check out the Machines for manufacturing tissue paper. You can even rent equipment to begin with. Some of the important machines you will need will be core making machines, bandsaw cutters, rewinding machines, embossing and perforating units, etc.
Tip: You can buy machines offline as well as online. Check out the capacity, the voltage, the dimension, longevity etc. before purchasing it.

Remember: A pricer machine does not necessarily mean a better quality one!
Other expenditure will include a generator during power outage, some auxiliary equipment and transportation.
You can apply for a loan from banks or other financial institutions using your business plan or report.
Also See: 15 Most Rewarding Business Ideas for Lawyers and Attorneys
Tissue Paper Manufacturing Process
 The manufacturing process of tissue papers consists of a few basic steps.
A paper pulp is first created, using recycled materials. Most tissue paper used in households is dyed a white color, but you can also use an assortment of colors.
The pulp is then squeezed to remove all moisture and make it completely dry.
After pressing, the pulp, it is processed through a dryer using steam and it is then scraped to the required thickness.
It is then finally cut into the desired length or size according the purpose for which it is to be used.
Marketing
Once the production stage is completed, you will have to start marketing it.
There are two categories of customers for your product. There are domestic clients and commercial ones.
Market them with pamphlets distributed in hotels and restaurants, hospitals and other institutions.
Warning: Be careful to adhere to quality tissue papers, especially when selling to hospitals.
Last Word
Is tissue paper business profitable? It sure is if you do it after proper research and with good planning. Tissue papers are used in houses and hotels as well as by all people and institutions where people are concerned about hygiene. They have become a basic need all over the world and since it cannot be recycled, the demand is always there.
If you have a well researched plan, reasonable amount of finance, the necessary raw material and skilled labor, you're all set to run a successful business. You don't have to be a genius in management, but you will need the right attitude and skills.
Must Read: How to Start a Home-Based Gift Wrapping Business
Find a source of funding first, buy the necessary equipment and find a location for accommodating it and running your business. Once you have done this, complete the registration and other legal procedures, hire trained workers and start production.
You then move on to marketing strategies, contact stores, hotels and other potential clients and your business is on the road to success! Every single person in the world uses tissue paper in some form or the other frequently, so why shouldn't you be the one supplying it?