Complete Guide to Traveling with Your Dog….
Having a dog when you travel a lot can be challenging. As your furry friend becomes a part of your family, it becomes difficult to think of a vacation leaving your dog at home.
Instead of compromising on your travel plans, you should start traveling with your dog. If you know a few tips about pet travel, you will have an enjoyable time with your dog.
Flying with a Dog
If you have a small dog, you can fly with your pet. You need to remember a few important tips when you are flying with a dog.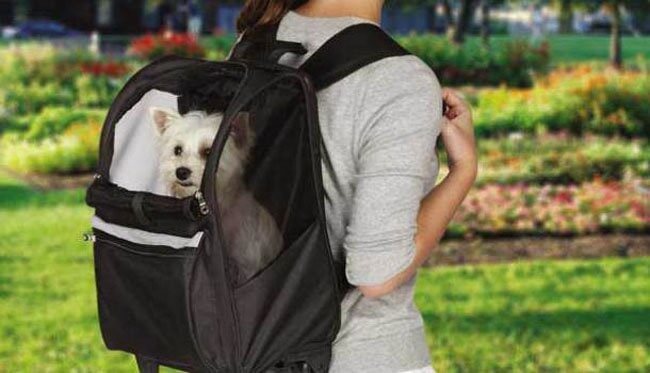 Find a Comfortable Pet Carrier
You must check out the requirements of your airline regarding the type and size of the pet carrier. It should be about 10 inches in height and 16-19 inches in length.
Find a dog airline carrier that you will make your dog feel comfortable. If you get a small pet carrier, your dog will feel suffocated.
You must remember that your pet carrier is now your carry-on baggage. Choose a pet carrier that has extra pockets so that you can keep your books or magazines inside them.
Must Read: How to Teach Your Puppy Not to Jump on Furniture
Call the Airline Beforehand
Airlines can allow only a certain number of dogs to fly. If you want to air travel with dogs, call the airline beforehand to book space for your dog.
When you are flying with pets, you have to pay extra fees. The amount depends on the airline that you have chosen. You should budget your trip when you are traveling with your dog.
If you are lucky, you will be allowed to board before everyone else as you are carrying a dog.
Pack all the Necessities of Your Dog
When you are traveling with your dog, you need to pack the necessities of your dog without fail. Carry enough food and toys for your dog. You must pack a non-spill water carrier for your dog when you are traveling in a flight.
Get a Health Certificate from a Veterinarian for Your Dog
One of the best tips for traveling with dogs is to get a health certificate from a veterinarian for your dog. Even if your airline does not ask for your dog's health certificate, it is better to carry one.
It is the proof that your dog is perfectly fine to travel with you and your fellow passengers in-cabin.
Sedatives Should be Your Last Resort
You can use dog sedative for travel only after discussing with the veterinarian. If your dog is very nervous about traveling, you can give a sedative to him.
However, sedatives should be the last resort when you are traveling with your dog. Sedatives can cause side effects such as breathing problems and unsteadiness.
Road Trip with a Dog
You need to keep a few important things in mind when you are opting for dog car travel.
Go to Dog-Friendly Locations
If you want to take dog friendly holidays, go to dog-friendly locations. Websites like dogfriendly and BringFido will help you in finding dog-friendly restaurants, hotels, and rest-stops.
Do Not Allow Your Dog to Roam Inside the Car
The best way to travel with a dog is to keep him restrained inside the car. You can use a pet seat belt or keep your dog inside a dog travel cage to ensure complete safety.
Not only your dog, but everyone inside the car will be safe if you do not let your dog roam freely inside the car.
Have a Dog First-Aid Kit Inside Your Car
When you are traveling with your dog, keep a dog first-aid kit inside your car. Include the first-aid kit in the list of dog essentials.
You can download a first aid app designed for pets on your smartphone. You will get some great free advice on the app whenever you need help.
Carry all the Dog Essentials
You must carry food, toys, water bowl, poop bags, medication, vaccination certificates, medical records, extra collar, towel, grooming supplies, dog bed, and blankets when you are going for a road trip with your dog.
You can buy a doggie car organizer to keep all the things of your dog in one place. It will help you to stay organized during the trip.
Do Not Feed Your Dog Before Departure
Give a light meal to your dog at least 3 hours before departure. You should never feed your dog inside the moving car.
Avoid feeding your dog right before you take him for a long drive as it can result in motion sickness.
General Tips When Traveling With Your Dog

Traveling with dogs is not only possible but also enjoyable. You can also train travel with large dog if you carry all the dog essentials. Let's take a look at a few general tips for traveling with dogs:
Take a Test Drive
Before you take your dog for a vacation, take a 2-3 hours test drive. It will let you understand how your dog behaves when he is traveling with you.
Take Your Dog to the Veterinarian for a Checkup
The best way to travel with dogs is to ensure that they are healthy and fit to go for a vacation. Take your dog for a checkup before you leave for a vacation.
Collars with Tags
When you are traveling with your dog, make sure that he has a collar with tags at all times. The tag should display your home address and name.
Do Not Leave Your Dog Alone in a Parked Car
You should never leave your dog alone in a parked car as it can result in mishaps and accidents.
During summer, the car can become extremely hot, resulting in heat-stroke. During winters, the car can be so cold that it can freeze your dog.
Pet's Traveling Kit
When you are traveling with your dog, you must ensure that all the important things are there in your dog's traveling kit.
Wrapping it up
Now that you know how to travel with a dog, you can easily take your pet for holidays. Whether it's a long vacation or a pet relocation trip, make your dog feel safe.
Make proper sleeping arrangements for your dog so that he feels comfortable. If your dog feels restless, distract him with his favorite toys. Pack enough food so that your dog does not have to stay hungry during the trip.