Starting a lawn care business can be lucrative, but it requires careful planning and preparation. This guide aims to equip aspiring entrepreneurs with the necessary tools and insights to launch and manage their lawn care service successfully.
In the subsequent sections, we'll delve into various aspects of the lawn care business, from initial planning and budgeting, procuring necessary equipment, hiring and training staff, and marketing your services effectively.
The Essential Equipment and Supplies for Lawn Care Services
One of the most important steps in launching your lawn care business is purchasing or renting quality equipment and supplies.
These items should be top-of-the-line to ensure that you have an edge over competitors in terms of service quality, reliability, and durability.
This could include lawnmowers, edgers, string trimmers, leaf blowers, and sprayers. It's also important to source quality tools such as clippers, shears, shovels, and rakes.
Read: 20 Home Based Small Business Ideas for Introverts
Research Laws and Regulations
Before launching your business, you must familiarize yourself with your area's laws and regulations regarding lawn care businesses. These could range from licensing requirements to noise ordinances or even zoning restrictions.
Additionally, you should research what kind of insurance coverage you'll need for your business (such as property and liability).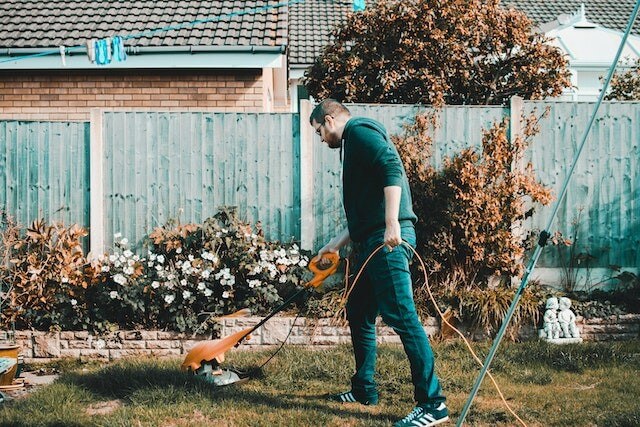 Develop Your Brand Identity 
Your brand should represent not only what services you offer but also your company ethos and mission. This will help differentiate you from other lawn care businesses in the area and give customers an understanding of why they should choose you over others.
Creating a logo is a great place to start when it comes to developing your brand identity. You may want to work with a professional graphic designer or use online logo generators.
Determine Your Services and Prices 
One of the most important decisions you'll make as a Lawnpreneur is what services to offer and how much to charge for them, according to Heroes Lawn Care in Shelby Township. It's important that you research what your competitors are doing and set prices accordingly. Don't forget to factor in the cost of supplies, fuel, labor, and other overhead associated with running your business.
It's also important to be realistic about the services you offer. For example, if you don't have experience with aeration or seeding, it's best not to include those services in your offerings immediately. It's better to start small and gradually add new services as your business grows.
Research Potential Customers
Research is vital to starting any business, and lawn care businesses are no exception. Before you start advertising or investing in equipment, take some time to research potential customers in your area to get an idea of the size of the market and what services they may be interested in.
Talk to friends and family who have recently moved into the area, local real estate agents, and property management companies. Visit local parks and properties to get a sense of the types of lawns that you might be servicing.
Also, take some time to research your competitors—what services are they offering? How much do they charge? This information will help you create a competitive advantage regarding your pricing structure.
Also See: How to Start a Florist Business: Running a Flower Shop
Promote Your Business 
Once your business is established, it's time to start getting the word out. Creating a website is one of the best ways to promote your lawn care business. Your website should include your services, pricing, and contact information.
Additionally, be sure to use social media to reach potential customers. Consider creating a Facebook page or an Instagram account to showcase your work and promote your business. You can also use these platforms to post exclusive offers or discounts for customers.
Don't forget about word of mouth, either! Ask friends, family, and colleagues to spread the word about your business.
The Importance of Proper Accounting, Licensing, Insurance, and Record-Keeping 
No matter the size of your business, it's important to understand the financial side of running a lawn care business. Having proper accounting practices and keeping accurate records is essential for long-term success.
You should also ensure you have all the necessary licensing and insurance to operate legally. This can vary depending on where you live, so be sure to research the requirements for your area. Having the necessary paperwork in place will help to protect you and your business if any issues arise.
Conclusion 
Launching a lawn care business can be an exciting and rewarding venture. With the right knowledge, preparation, and dedication, you can be on your way to success as a Lawnpreneur!
Hopefully, this guide has helped provide an overview of the steps and considerations to take when starting your own lawn care business.