10 simple steps to turn your idea into a startup….
You might be struck by a brilliant business idea but may not know how to turn an idea into a startup! It is known fact that all startups begin with an idea, so check out these tips and ways to turn your idea into a successful startup company.
Though each company takes a different path in implementing its business idea, there are some general guidelines that you can follow to transform your business idea into a feasible startup.
Read: Starting a Business: Guide for Entrepreneurs Looking to Start a Business
It is easy to come up with a million ideas, but not all of them are worth implementing or feasible while converting an idea into a startup.
When trying to convert an idea into a working business or startup, you have to consider many factors, such as the product, the demand, the competition, your target market, capital and so on.
10 Real Steps to Turn Your Idea into a Startup Business
The Problem and the Solution – Converting an Idea into a Startup
Check out the products and services around you. From the basic needs like water, electricity and telephone to social needs like Facebook or PayPal, they are all fulfilling a need and that is the reason for their existence.
Firstly, your idea must also be impressive enough to get investors interested in offering funds and supporting you through the launching stages.
Why should people buy your product? Your product/service must solve a problem or fill a need that many people experience. It should not be an imagined problem but a real solid one.
It's no use following a trend or copying someone else, as trends tend to change. Your idea needs to be unique in solving a specific problem.
This question is the litmus test for your product. What problem does your idea solve? Make an honest assessment.
You can gain customers only by satisfying a need.
Tip: Do some research about startups that have grown rapidly due to the solutions they provide for problems!
See: Franchising a Business: Consider These Pros & Cons of Buying a Franchise
Market Research Before You Put Your Business Idea into Action
Don't be so passionate about your idea that you lose objectivity when you want to convert an idea into a startup.
Your idea may be good and viable, but is there a market for it? Look at the story of Pets.com and why it failed! The idea of ordering pet supplies online was good, but it was not feasible as an online idea. Market research is important to find out whether your idea is ready for a startup.
Take the time to thoroughly research the market. This is one of the simple steps to turn your idea into a startup.
Tip: Get information from industry associates, make a web search, read periodicals, make trips to the library or spend time online to understand your niche market.
Gain an idea about the kind of customers for your product. You can also fine tune your idea based on your research answers.
Tip: Get experts to conduct your research for getting statistically solid samples and objective analytical reports.
Go into questions such as these when considering transforming an idea into a startup:
Who will buy my product?
Why should they buy it?
Where will they buy your product, online? Specialty stores? Department stores? Using apps or smartphones?
What is the competition for your product/service?
Dig out information using surveys and get data from your industry associations or from the US Census Bureau before making your business plan.
Must Read: 10 Ways to Use Microsoft Excel to Improve Your Personal Life?
Protecting Your Intellectual Property
There is always the threat of someone stealing your startup idea and presenting it to the world before you do.
Protect your intellectual property using patents, a trademark, trade secret or a copyright registration to make sure that it remains yours legally.
While using a trademark, make sure that you don't infringe on existing ones when converting an idea into a startup.
Business and Revenue Model
If you want to know the future financial health of your idea, begin by creating a business and revenue model for your product/service in the beginning of your startup journey.
You will have to assess your cash flow and your cash needs for the product, both for yourself and for your potential investors.
Make projections of expected revenue and expenditure.
Choose a proper revenue model that can truly represent the value.
Consider when you will break even and start making profits with your shift from an idea into a startup.
Make predictions for about a year or two years, as it becomes meaningless to look too far out in the future.
Creating an MVP or Minimum Viable Product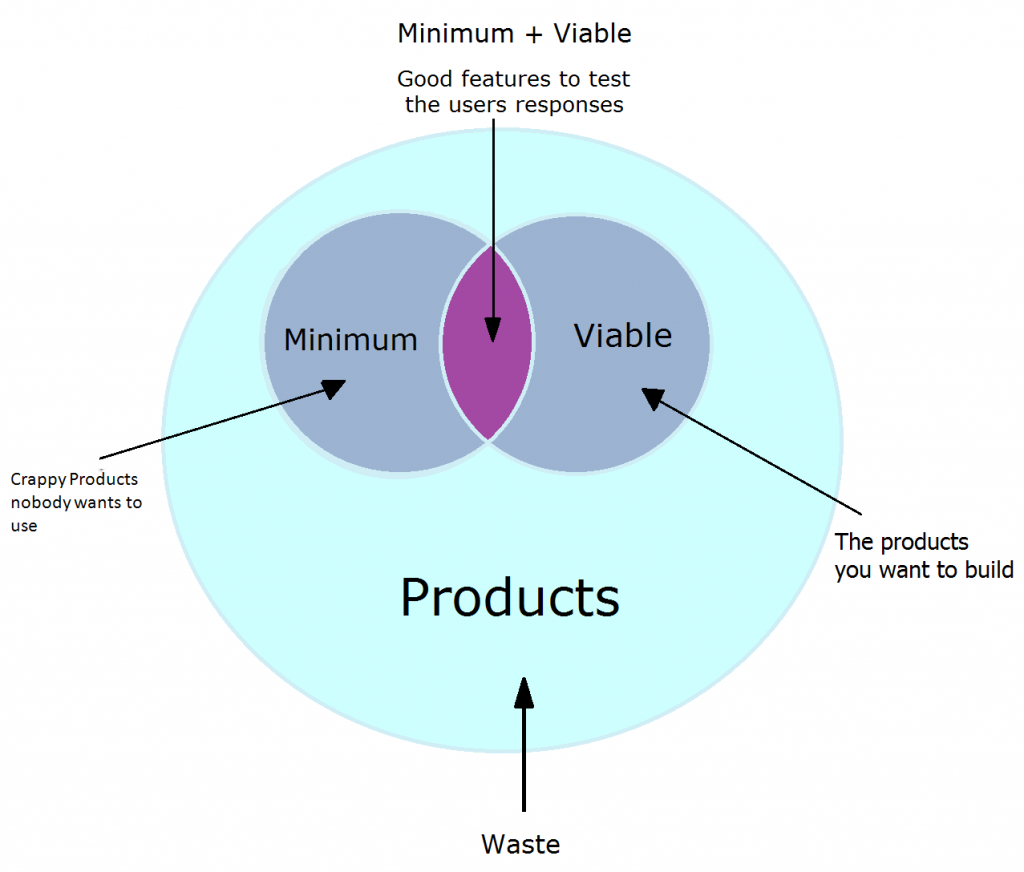 You are actually testing whether your product/service will fit in the market or just be a waste of resources when trying to convert your idea into a startup. It is important that you test this before wasting your money, time and resources on a product or service.
Create a product/service in its rawest form with only the basic or important functions in order to check the target market fit and get feedback from the users. This will be a simpler version of your final product, but you can get valuable insights about whether your product will be viable in the market.
The MVP will include assessment of the need for your product, help in deciding the necessary features, and the design or prototype of your product or service.
You can create an MVP using AutoCAD or Visual Studio or just pen and paper. Again, you can create it yourself or hire someone.
Once you have created your MVP, test it on your target market and get user feedback, by introducing it to friends, contacts etc.
Check: Reasons Why Outdoor Signage is as Important as Your Website in Business
Product Branding
Your idea has turned into a product and is ready to ship, but no one knows about it apart from family and close friends. When you are done with transforming your idea into a startup, you have to begin branding it.
In an ideal scenario, you should start marketing your startup even before opening business.
Build your brand with care and strategy.
Spread the word in the startup community, create viral videos to define your brand. Do not imitate competitors.
Hang out in places where your typical customer can be found. It could be a real-life place or an online site.
Identify influencers for spreading the word. This is an important aspect of ways to turn an idea into reality.
Support and Guidance
If you're on to your first startup idea, it makes sense to get support and guidance from mentors and accelerator programs.
There are many mentor and accelerator programs available on the web. They can help you get connections with their acceleration program, which normally might take you years.
These are fixed term programs to help early startups when converting an idea into a startup. They can help you in connecting with founders, mentors and get other advice for development. Successful entrepreneurs turn business idea into business opportunities.
You May Like: A Complete Guide on How to Start a Dairy Farm Business
Getting a Co-Founder
It can be challenging to be a sole entrepreneur in a startup. You might need a co-founder if you don't possess all the skills or the bandwidth needed for the startup. You could of course delegate the work to an employee, but that entails more expenditure.
Find a co-founder with skills that complement yours. Find a perfect fit partner who shares the same passion and is ready for the challenge.
Define your co-founder, the skills and experience that you need.
Start networking to find a suitable one, just as you would network to find funding and investors.
Check out industry conferences, forums and business organizations in your city. You can also join online groups in LinkedIn, Twitter and Facebook to find a co-founder. There are also sites like StartupAgents, who can help you.
Funding Options
Lack of funds can pose a major hurdle to begin your startup. So how will you finance your startup?
Self-funding or bootstrapping is one effective option. Use your savings or borrow from friends, relatives and contacts.
Another option is crowdfunding. It means that you accept contributions from many people at the same time. You can post your requirements on crowdfunding platforms, give details of your business, the funds required etc. and consumers will offer to invest if they like the idea. You can raise a huge sum of money through crowdfunding.
Legal Structure
Now that you've completed all the steps for setting up your startup company, all you need to do is create a legal structure.
You can select the entity, such as a corporation, an LLC and then opt for a resident state.
You will have to decide on the number of shares that you want to authorize, how you will split the equity between yourself and your co-founders.
Next, you have to create the legal documents and file them, maybe with the help of lawyers.
Read: Top 12 Profitable Kids/Children Focused Small Business Ideas
Wrap Up – Turning Idea into a Startup Company
If you are planning on leaving your day job and setting out as a founder of a startup, check out these steps before you get the ball rolling on your startup business idea.
Coming up with a business idea is the easy part, but putting your idea into a tangible reality is a tough cookie.
You need to take the right steps and map out every stage. Given above are some of the important steps in the startup process. Critique your idea, market research it, talk to customers, gather data, try finding customers and so on.
Initially, ensure that you invest in small tests of your idea, so that you can assess its viability, profitability and earning abilities. When you are sure that your product can generate enough value, then you can make bigger investments. So, here's to your next new startup idea!