If you are wondering how to get Netflix for free, check out below….
"Free Netflix Account", "Get Free Netflix" – all of you might have seen these ads at many places – while purchasing a postpaid connection or broadband.
Netflix has become very popular with the introduction of high-speed internet. Let us understand what exactly is Netflix and how to watch Netflix for free in the coming sections.
We assume most of our readers are already aware about what is Netflix? For those of you, who doesn't know, Netflix is world's leading videos streaming service provider with amazing content – Movies, TV Series, Netflix original shows and more.
Go to Netflix.com and check out more about this wonderful website.
So now you know Netflix provides real awesome videos and related contents for its viewers. But is it free? Unfortunately, no. Netflix has different plans with different subscription charges for viewing its content. You can read more about the various plans offered by Netflix in their website
Can we Subscribe to Netflix for Free?
Yes, that's exactly what, I am going to discuss in this article. Let's see what are the different ways in which we can subscribe to Netflix for free.
One-Month Free Trial Offered by Netflix
This is plain and simple.
Go to Netfix.com
In the launching page, you can find this incredible opportunity offered by Netflix – Watch free for 30 days. Through this option, you can subscribe to Netflix under any plan and enjoy unlimited Netflix content completely free for one complete month.
Read: 20 Top Indian Web Series in Hindi on Netflix, Prime, YouTube, Zee5 etc.
This is quite straight forward. Next screens Netflix asks you to choose from the available plans.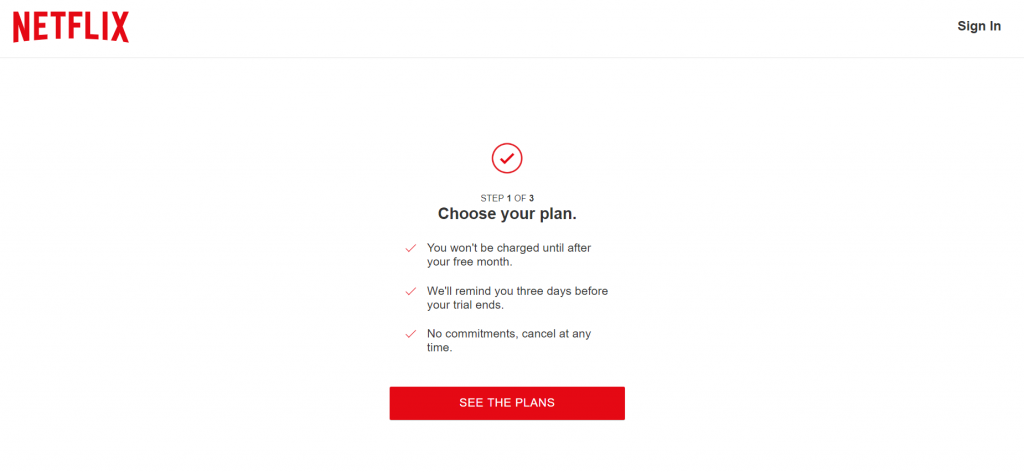 After selecting your plan, you will be directed to the registration screen. You need a valid email address for registering with Netflix. Also make sure this email address has not been linked to Netflix before.
The next part is quite tricky. Once you have entered a valid email address and have set password as required, you will be taken to the payment screen.
Don't panic yet. Netflix mandates payment details for registration. But you can cancel anytime before the free trial of one month ends and Netflix won't charge you a penny.
Netflix accepts Credit/Debit cards of recognized banks or PayPal as modes of payment.
Read: 10 Ways to Use Microsoft Excel to Improve Your Personal Life?
Many people make the mistake of waiting for the last day of free trial to cancel the subscription and ends up missing out on the deadline. As a result, Netflix will charge you for the next billing cycle. So, cancelling on time is important, if you want to enjoy Netflix for free.
But I know all of you are busy people, with lot of things to focus on in your day-to-day life. It would be difficult to keep a track on your Netflix free trial expiry. In fact, you do not need to do this. It's much simpler than you expect.
You can cancel your subscription immediately after registering for the free trial with Netflix. Netflix will still grant you access to their content until the free trial period is over (i.e. 30 days).
Great! Isn't it? Also, if you want to opt for Netflix subscription, you can restart it anytime by going to your profile page in Netflix.
We know, what everyone would be thinking now. What if I need to continue using Netflix and the subscription charges are unaffordable for my budget?
Let's see some hacks by which you can continue using Netflix for free even after the expiry of the trial period.
Register Using Multiple Email Addresses
Creating an email address is one of the easiest things to do these days. Most of you might be already having 2 to 3 email addresses. Once your first free trial is exhausted, you can re-register with Netflix using your alternative email address.
While doing so make sure you add a different credit/debit card as payment method. You can also create an account in PayPal and add PayPal as your payment method. If you are having more cards with you, you can repeat this process and avail more and more free trials.
It would be better if you could avoid using cards from the same bank, as Netflix might trace it to the customer and thereby might cancel your free trial.
Share Your Free Trials
All of you might have a group of close friends. If not friends, then your family members. Everyone would definitely have an email address and some credit/debit card.
Instead of starting all free trials together, register for your Netflix free trial one after the other and share your credentials. This way you can enjoy the benefits of Netflix free trial multifold times.
Check Out: Top 10 Highest Paid and Wealthiest Comedians in the World
A Special Hack for Our Readers
What if you run out of email addresses and credit cards?
Suppose you had three email addresses and you have exhausted all three of them after enjoying Netflix content for three months. Also, you have exhausted the email addresses among your friend circle too. Now you are feeling lazy to create one more mail id. So here is a tip for you then;
Suppose one of your email addresses is test@gmail.com, and you have used it once. Still you can register into Netflix using an email address test@google.com as Netflix treats gmail.com and google.com as different domains. Using this tip, you can simply double the number of free trials possible for you.
Also, regarding credit cards, there are many mobile wallets that allow you to create virtual debit cards in a matter of seconds.
Avoid linking phone numbers with your Netflix account. If required use different numbers all the time. Registering with the same mobile number for multiple accounts might lead to Netflix cancelling your free trial.
Summing Up – Watch Netflix for Free
So far, we have seen some cool ways to access content from this wonderful video streaming website Netflix. Except for the comparatively higher subscription charges, Netflix is just awesome.
With the increasing subscriber base, let's hope Netflix will come up with more affordable plans so that everyone can access Netflix without any hassles.
So, to all my readers,
Netflix and Chill!!!